Protecting civilians from conflict
Objective: Help Syrian communities protect themselves against indiscriminate attacks
What we did:
In 2012, local councils in northern Syria told ARK staff they had no emergency services to respond to indiscriminate attacks; with no way to get people out of buildings that had collapsed, loved ones were being left to die in the rubble.
Working with an Urban Search and Rescue NGO partner, ARK provided training to teams of ordinary Syrian men and women, creating the search and rescue teams that are now known to the world as the White Helmets.
Nominated for the Nobel Peace Prize in 2016 and 2017, the White Helmets have to date saved over 114,000 lives.
Ensuring accountability for war crimes
Objective: Document War Crimes in Syria to enable future prosecutions
What we did:
In 2011, working in a consortium with legal and investigative expertise, ARK started training Syrian human rights activists to document war crimes, interview victims and collect physical evidence. This project became the Commission for International Justice and Accountability, which is now an independent, not-for-profit Syrian organisation with over 150 staff. The CIJA has gathered in excess of 700,000 original pages of Syrian regime documentation and conducted hundreds of victim, insider and witness interviews. The CIJA's ongoing work has laid the foundation for the future international prosecution of those responsible for violations of International Humanitarian Law, including members of the Islamic State (Daesh).
Developing opportunities for Palestinian refugees
Objective: To improve Palestinian refugees' social, economic and political participation.
What we did:
Since 2008 we have been working to improve the social, economic and political situation for Palestinian refugees in Lebanon. By developing economic opportunities and increasing conflict mediation, advocacy and alternative dispute resolution skills, we have managed to improve community safety and reduce conflict level in refugee camps.
To do this, we carried out thousands of community consultations to understand what support communities really needed. We then helped develop more than 140 projects that ranged from improving lighting in markets and opening aluminium recycling business, to setting up a fire-fighting civil defence team. We also worked with 48 Palestinian organisations to deliver 76 youth grants that reached thousands of direct beneficiaries across refugee camps and gatherings in Lebanon.
Addressing sexual and gender-based violence
Objective: To mitigate the risk of Sexual and Gender-Based Violence (SGBV), empower and protect women through livelihoods opportunities, and encourage women's inclusion and participation in governance.
What we did:
Since 2013, ARK has been working with Syrian civil society partners to address the risk of SGBV. These projects have provided empowerment and protection for women through livelihoods opportunities, vocational training and advocating for women to be included in local governance.
A third-party evaluation found that the programme had increased women's participation in their communities and demonstrably helped women fight against SGBV through their inclusion in educational, commercial and governance structures.
Preventing civilian casualties of unexploded ordnance
Objective: Highlight the threat UXO poses to civilians in conflict zones
What we did:
In Syria, we supported a team of activists in creating posters to warn civilians about the dangers of UXO in their bomb-damaged homes and local countryside and the need to wait for them to be secured by UXO teams. 10,000 posters were put up around the province, grouped on the main access points to badly-bombed areas. The team, which also posted on social media platforms, was contacted by civilians looking for help in dealing with UXO - where previously they would have attempted to move it themselves - and by volunteers to help distribute posters and spread the word.
Increasing Yemeni community resilience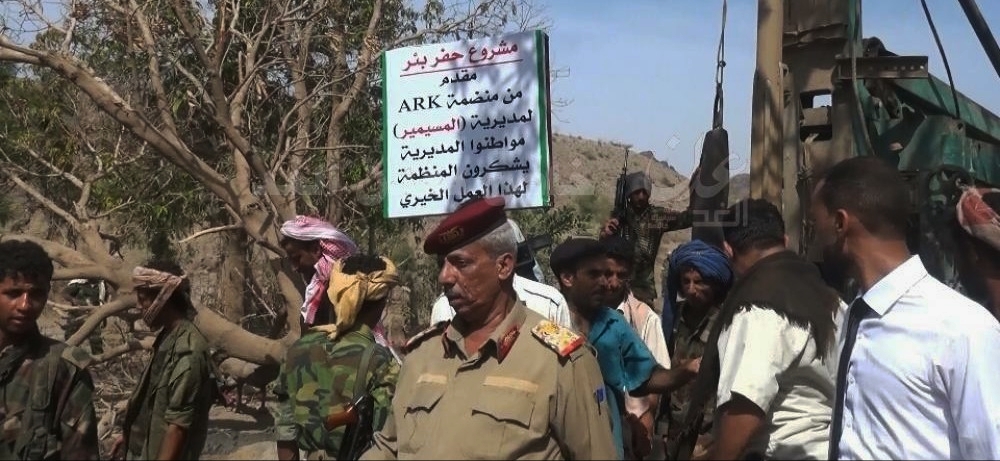 Objective: Increase community resilience and civil society capacity in conflict-affected communities in Yemen.
What we did:
ARK has been operating in Yemen since 2010. When the current conflict broke out in 2015, we built on the work we were doing with the White Helmets in Syria to deliver public safety information to civilians, demonstrating how to shelter from aerial attacks and deal with unexploded ordinance. We are currently delivering a multi-year UK-funded stabilization project in Southern Yemen, working with local partners to improve service delivery and reduce drivers of conflict.
Enhancing community safety and social cohesion
Objective: Enhance the capacity and capability of the Jordanian internal security forces.
What we did:
Working with our specialist police training partner Siren, ARK is delivering capacity building programming to security agencies in Jordan. The project has established effective approaches to community policing in Jordanian communities hosting high numbers of refugees. Dedicated teams work with community police officers to increase awareness of community policing, ensure the police are approachable in high-risk areas, provide greater access to policing services for marginalised populations, and improve overall community safety. The project team is also providing support to units that respond to critical incidents, with a focus on increasing female participation to ensure a comprehensive and effective response to any event.
Promoting social stability in Lebanon
Objective: Monitor changes in social stability to help create positive developmental outcomes in Lebanon
What we did:
ARK conducted, on behalf of the United Nations Development Programme and the Social Stability Working Group of the Lebanon Crisis Response Plan, four quarterly nationally representative perception surveys on social tensions throughout Lebanon. The surveys were designed to monitor changes in perceptions of social stability and tensions between host communities and refugees.
An intervention framework had hypothesised that tensions and conflict events decrease as several social stability assistance interventions increase. These interventions were defined as: improving access to services, increasing the quality and quantity of relations, and improving the capability of local actors. The survey findings were used to highlight the work of the Crisis Response in 2017, as well as the planning, design and delivery of the 2018 Crisis Response. It demonstrates ARK's core belief - that the key to effective stabilisation response is credible data.
An interactive dashboard to further explore the data can be found here.